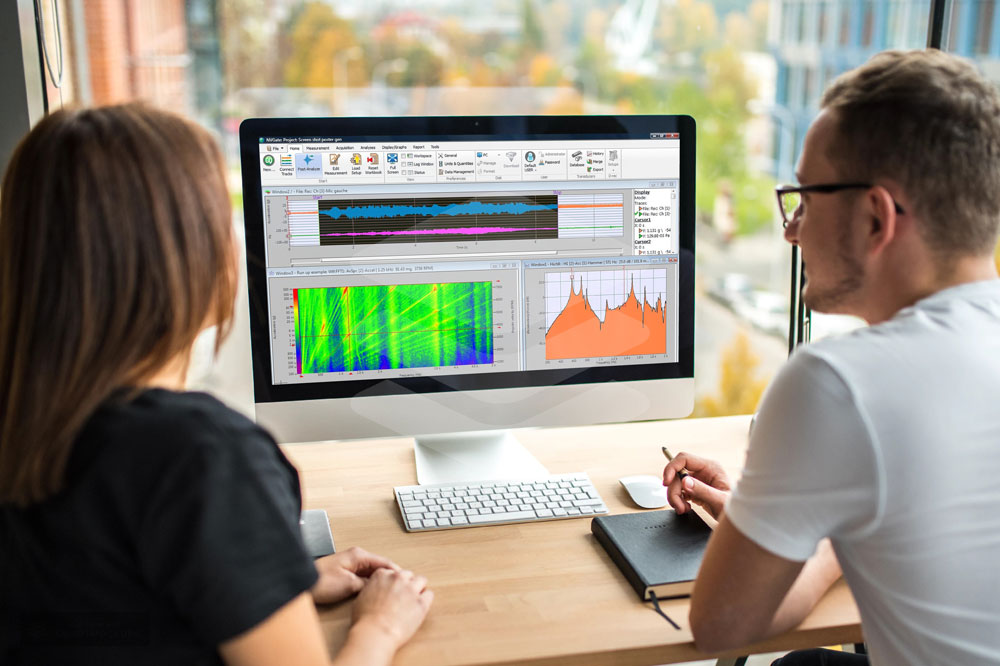 NVGate 2021 – Welche Neuerungen gibt es?
OROS macht den nächsten Schritt bei der Bereitstellung der besten Werkzeuge für Geräusch- und Schwingungsmessungen und -analysen.
Die NVGate® 2021 Hauptversion wurde im Januar 2021 verfügbar. Diese Version der Softwareplattform der OROS 3-Series Systeme bringt zusätzliche Funktionalitäten und signifikante Leistungsverbesserungen. Im Folgenden finden Sie eine Zusammenfassung der wichtigsten Verbesserungen Ihres NVGate-Erlebnisses!
OROS ist bestrebt, näher an seinen Nutzern zu sein und sorgfältig auf Bedürfnisse und Wünsche zu hören. Aus diesem Grund veröffentlicht OROS regelmäßig neue Versionen. Kunden, die unter Vertrag stehen, profitieren automatisch von jeder neuen freigegebenen Version.
Sie haben keinen Vertrag? Klicken Sie dann hier,  um weitere Informationen zu den Optionen zu erhalten und zögern Sie nicht, das  Kundenservice-Team zu kontaktieren!
NVGate 2021 Features
Synchronize GPS with your dynamic signals
Use the GPS of your Android phone to analyze your measurements with velocity as a reference and export your trace into a .GPX
The GPS and weather station below have been developed using the DC simulated. Thanks to this add-on you can synchronize your acoustic or vibration signal with GPS and so, display and analyze dynamic signals with displacement or speed as a reference. GPX trace can be exported and Android phone are compatible.
How much does this body shake?
The OROS Body Vibration tool allows to evaluate the effect of vibration on the human body according to standards ISO 2651 and ISO 5349.
These standards define measurement practice and vibration signal analysis to evaluate the effect on health and comfort of environmental and equipment vibrations on the human body.
The ISO 2651 describes the effect on health and comfort of vibration on the whole body in transportation system.
The ISO 5349 describes the effect on health of vibration on hands and arms when manipulating machine tools or vibrating objects.
ORBIGate: save run-out compensation
Apply a run out compensation on every measurement made on the same machine.
In previous version, it was possible to apply a run-out compensation only on the test we used to calculate this run out. From ORBIGate V7, we can apply the run-out compensation to every measurement made on the same machine.
NVGate 2021 more new features
Relax the limits of filtering!
Improved precision
Now, the filters are calculated in 64-bit floating point format versus 32-bit before.
New filters
In addition to the Butterworth filter, now you can build the IIR filters with the Chebyshev type I filter or Chebyshev type II filter.
Relaxed constraints on the cut-off frequency
For the high pass and low pass filters, the maximum value of the cut-off frequency is the input frequency range FR.
Tracking my bearing frequencies on RPMs variations
Kinematik markers follow FFT tachometer. They can be associated to the speed of the tachometer. During a run -up, kinematik markers will automatically follow the speed inside FFT spectra.
From GPS to environmental metadata, enrich your measurements in rea-time
The DC simulated inputs allow you to inject up to 32 external DC channels in NVGate from external source (example : GPS, weather station, external CAN bus…). The frequency sampling is up to 15 samples / second.
Y = ax+b calibration
It is now possible to calibrate a dynamical sensor in "DC" or "DC floating" coupling using 2 values. Then the software will automatically compute sensitivity and offset to obtain the "y = ax + b" formula.
This feature is used for 4-20 mA sensors or "quasi-static" sensors acquired on dynamic channels. We speak about wire displacement sensors calibrated with rules, pressure sensors calibrated with compressors, proximity probes calibrated with micrometers.
Draw those orbits!
Orbits were only available in ORBIGate, our dedicated solution for turbomachinery vibration. From NVGate 2021, orbits are available directly in the FFT and ORD plug-ins.
Want to know more about NVGate ? New content available !
Check our OROS WIKI
The entire OROS documentation is online !
We created tutorial video for you only
We made tutorial video on every NVGate module to explain you how to use them. Check it !
Online training
Do you need a customized solution or an adaptation dedicated to your activity?
NVGate V12.00 enables us to create your customised solution quickly and efficiently.
Going beyond standard uses,our team is able to provide for specific requirements and adapt to your specifications. We can work with you to customize the software and find the best solution.
The customization webpage provides further information about our capabilities. Please contact us directly to find out more.