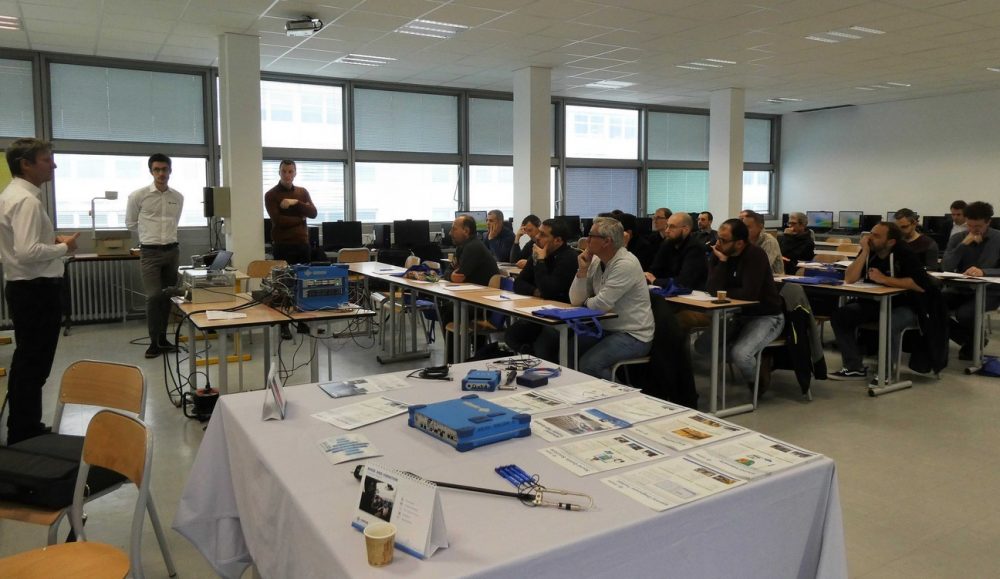 Training
Experts from OROS offer theoretical and applied training sessions on noise and vibration. Our trainings are defined with you according to your needs. Our objective is to be beside you all along the use of your system to maximize your profitability and efficiency.
Remote training
OROS training opportunities are available remotely via conference calls to improve your working efficiency.
Our goal is to support each stage of use in order to maximize the efficiency of your measurements:
Theoretical training provided in acoustics, vibrations and signal processing
Advanced training opportunities to develop skills on NVGate and establish independent use
Personal coaching dedicated to your specific application
On-site training
We come on-site for applied trainings. We will help you using your OROS equipment. We also propose remote internet training sessions delivered from OROS offices.
To go beyond the regular uses, we are able to answer specific requirements and adapt to your specifications. We propose customization, either on the instrument or in the software. We imagine and find the best solution with you.
Our trainings catalog is detailed in the Service Line Brochure. Please do not hesitate to contact us to define the best program according to your needs.
Examples of our trainings
Noise and Vibration Theoretical – The Basics of Signal Processing
Get Ready for Measurement with NVGate
Setup and Design your Own Test or Measurement Report
Machinery Diagnostics
Introduction on Turbomachinery Vibration with ORBIGate
Balancing – Basic Principles and Procedures, Practical Case on Training Kit
Advanced Rotating
Torsion analysis
Modal Basics
EMA (Experimental Modal Analysis) with Modal
Sound Intensity – Theoretical and Practical Measurement on Training Kit
Sound Power – Theoretical and Practical Measurement on a Real Machine or on a Training Kit
Acoustics with NVGate
Application oriented software, instruments and services