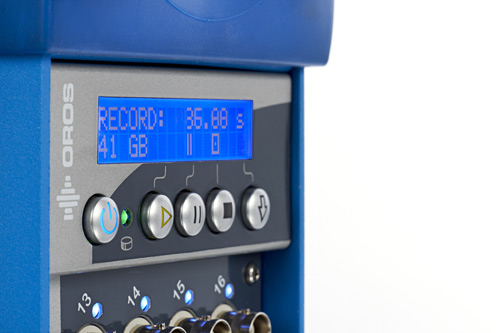 OR38 – 32 channels Teamwork Analyzer Recorder
Teamwork multi-analyzer/recorder instrument
Up to 32 channels, OR38 is a synthesis of components usually used separately for measurements: analyzer, recorder, conditioners in a single portable instrument, based on the Teamwork technology. It offers the capability of an advanced laboratory instrument in a modular and rugged package. OR38 speeds up and guarantees your day-to-day noise and vibration measurements on industrial machinery.
Main Features
8 to 32 channels
Portable: 8 kg (18 lbs)
Up to 40 kHz
± 40 V range, 24 bits
Teamwork technology
OR38 benefits from the latest Teamwork technology to boost measurement efficiency, security and quality. Natively embedded in each critical hardware and middleware location, this provides a complete environment dedicated to high-efficiency tests. Ideal for teams and fleets, it simplifies license management, enables the instruments to be cascaded in stacked or distributed configurations, and facilitates sharing of conditioners and accessories. The powerful embedded local DSPs process signals on-line, without missing a sample for any rate or result type.
Application-oriented software suite and services