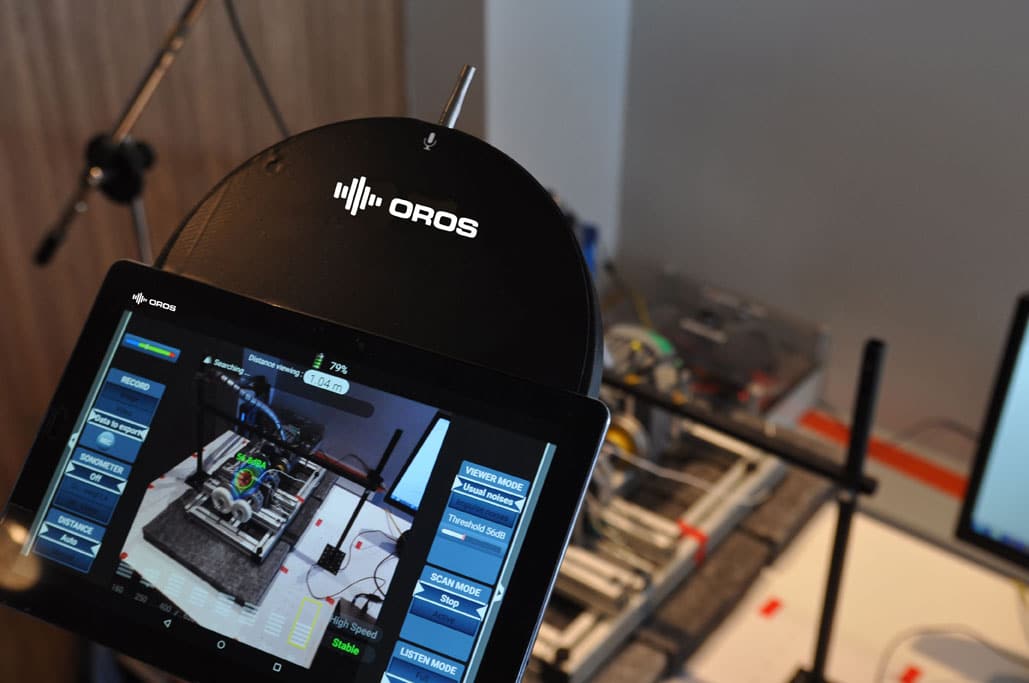 Beamforming solution
SoundSpot - the lightest handheld real-time sound camera in the market
In a noisy environment, the most efficient way to decrease the global noise level is to reduce the main noise source. SoundSpot displays a spot on video in real-time, locating the dominant noise source. Its ultra-compact and light-weighted design, user-friendly interface, and fully automatic setup allow users to perform acoustic investigation anywhere immediately.
Soundspot, an easy way to localize acoustic sources
Our beamforming solution demonstration on Automotive Testing Expo North America
Main features
Visualize the dominant noise source in real-time video
Ultra-compact system: the lightest handheld sound camera in the market, weight only 0.95 kg / 2.1 lb.
Fully automatic setup, ready to use right out of the package
Usable anywhere by anybody: no prior acoustical knowledge required
Detect both transient and stationary noise sources
Acoustic map corresponding to the selected octave band
High noise localization performance with only eight microphones thanks to the patented technology
Automatic distance measurement by the optical system
Sonometer mode to measure sound pressure level in dB or dBA
Post-processing software SoundSpot-Office available
SoundSpot-Office
SoundSpot-Office is the acoustic imaging software to post-analyze the data exported from the SoundSpot via Wifi.
Generate acoustic picture and video corresponding to any time-frequency area selected from the spectrogram, or the selected frequency bands (oct, 1/3 oct).
Acoustic video synchronized with the optical video: can be viewed frame by frame.
Provide the spectrum of the dominant noise source (narrowband, oct, 1/3 oct).
Recorded microphone signal and localized sound source playback.
Acoustic picture and video export in .jpg and .avi format.
Application oriented software, instruments and services