Submitted on 14 November 2022
Join us to discuss OROS testing solutions !
Wed. Nov. 30 and Thu. Dec. 1, KONE welcomes OROS and Acoutronic on their premises in Hyvinkää (Finland).
Come ane meet our experts and other OROS users to take advantage of their feedback and experience!
FREE REGISTATION for 1 or 2 days: info@acoutronic.se
Day 1 - General presentations
Teamwork instruments & NVGate 2022
Online, post-analysis and reader modes
Advanced analysis using NVGate, FFTDiag, time domain, order and octave analysis
OROS Framework: extend your possibilities using Python, Matlab, ...
KONE factory's tour
Day 2 - Specific solutions / Applications
Application oriented solutions:
EV/HV
Modal analysis
Sound Level Meter (OVA)
Any other application on request
Dedicated demos on demand: just ask!
OROS INVIT USERS DAYS 2022 ACOUTRONIC_
(overview below)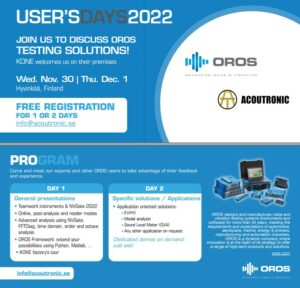 Back to news