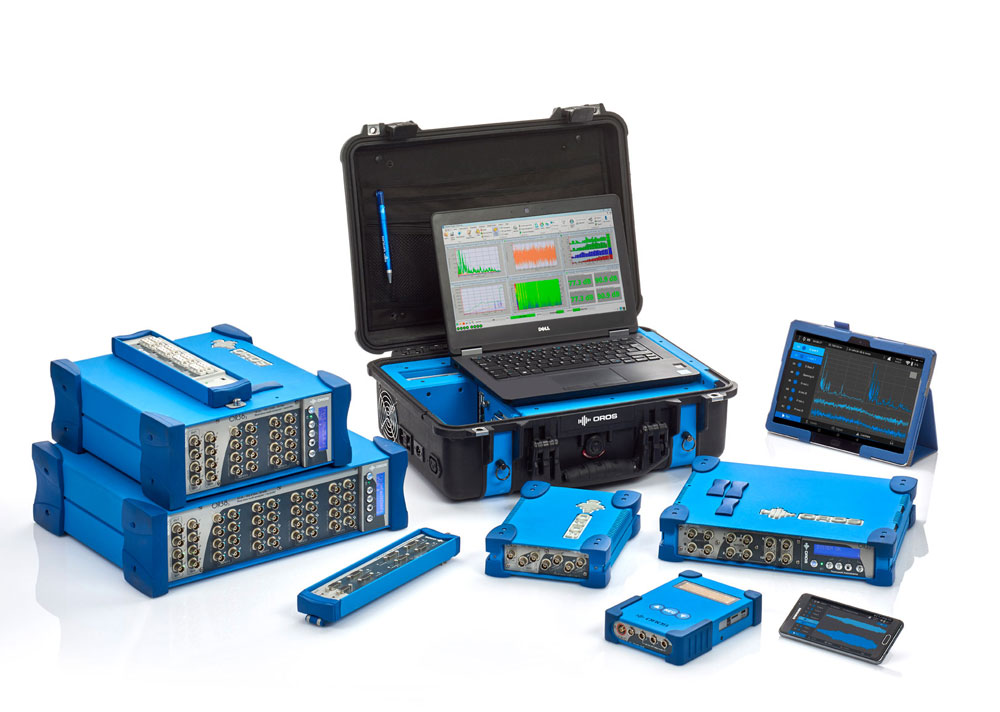 Teamwork Technology
State-of-the art instruments for teams and fleets
DataCare®
Embedded dedicated processing
High-end metrology
Retrievable SSD hard-drives
Flexible
Handling any transducers
Dual licenses system
Synchronous multi-tasks (live and post)
Made for any testing environment
Robust design
Stand-alone & remote monitoring modes
Easy integration for test benches
From portable to high channel count
Based on standard IP protocols, the connection "to" and "between" the instruments features high flexibility:
Connection to PC

Fast and fluid on-line results with standard IP Ethernet cable
Real-time analysis and raw data recording monitored through Wi-Fi
Remote internet connection to analyzer with secured SSH tunnel,

Standalone recording

Direct setup/control and template load trough instrument LCD/keyboard panel
Full control of acquisition with NVGo monitoring App, disconnection proof

Instruments combinations

Cable reduction on large area with daisy chain instrument distribution
High channel count up to 1000 channels with racked instruments
True and secured results
The DataCare technology with its embedded processors, memory and storage hardware ensures a gap free and secured data processing and recording:
True real-time powerful DSPs analyze incoming data without losing any sample,
Configurable computation power (DSPs) for limitless multi-analysis,
Secured data acquisition with raw data extractible disks,
Shocks, vibration and loud noise proof recording solid state disks,
Secured and predictable data analysis with dedicated processors for recording and auxiliaries inputs management.
Laboratory performances on the field
The OROS Teamwork instrument suite offers continuous level of performances and accuracy whatever the environment. Designed for laboratory, workshop, test benches, on-board and field measurement the OROS instruments provide their best performances and accuracy. R&D, prototyping, production test, factory acceptance and maintenance results can be compared with the same quality.
Coupling: AC, DC, Float/IEPE 1/2/4 mA, TEDS
Range from ±100 mV to ± 40V, 140 dB dynamic, protected up to ±60V
Accuracy: 0.01 dB & 0.02° @ 20 kHz
Sampling: 2 clocks 40 kHz/25.6 kHz
Plug'n play conditioners
The XPod conditioners bring rapidity and security to temperature and dynamic strain measurements. Easy to add on the Teamwork instrument, the Xpod benefit from many advantages vs external conditioners or dedicated inputs:
Fueled by the instrument, no external power supply, no additional cables,
Usable on any Teamwork systems without license,
Fully configurated and memorized setup by PC
Uses only the needed channels, leaving the others for regular usage
Faithful results with high performances triggers
The dynamic inputs acquisition and analysis are completed by high speed tachometer inputs to provide results that reflect faithfully the actual physic:
Eliminate ripple & jitter errors from the rotating machine measurement with oversampled Ext. sync up to 64 times faster than the dynamic
Excellent phase resolution thanks to filter free (no anti aliasing) threshold detector.
Allows RPM, Instantaneous angular velocity, torsion, twist and angular sampling acquisition.
Manage timing, gear boxes multi-shaft configurations with up to 6 Ext. sync/instrument
Controled excitation with high performances generators
The dynamic inputs acquisition and analysis are completed by Synchronized versatile signal generators to provide results that reflect faithfully the actual physic:
Easy experimental shaker control with complete suite of signals
Fixed, stepped and Swept sine
Multi-sine, uncorrelated random noises, white/pink
Burst an chirp
Smooth mute, amplitude and phase offset
Fully controlled multi-shaker acquisitions (normal modes, MIMO)
Up to 6 synchronized output/instrument, cascadable
High resolution down to 25 µHz
On-line playback
Any inputs, any signal file track
Mobi-Pack multichannel field analyzer and recorder for machinery diagnostics
Application-oriented software suite and services